What are Chocolate Diamonds®?
Chocolate Diamonds are some of the rarest diamonds in the world. They are also much more affordable than other natural-colored diamonds. And because they are only sold by Le Vian®, Chocolate Diamonds® are set in original designs created by one of the most innovative jewelers in the world. Here is the inside story on this fascinating and beautiful diamond.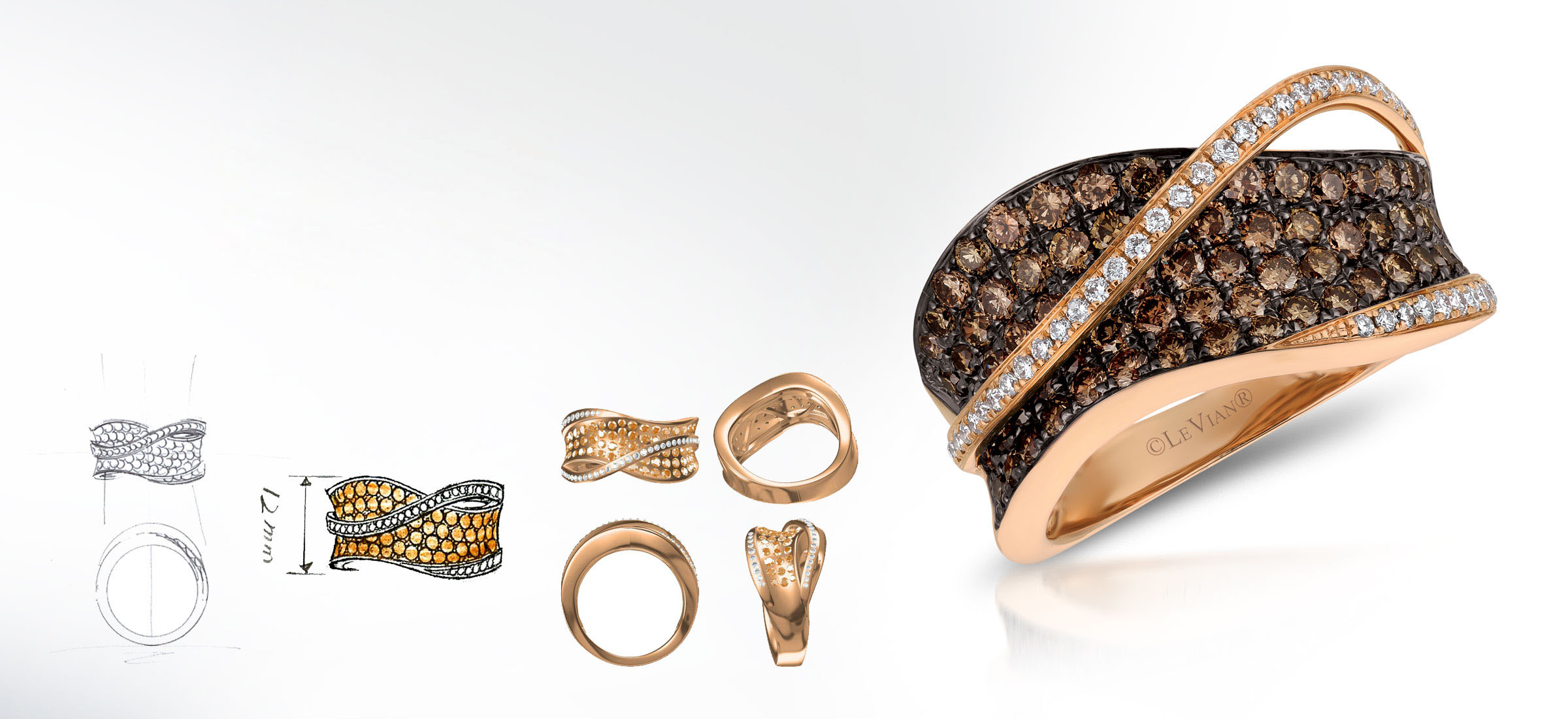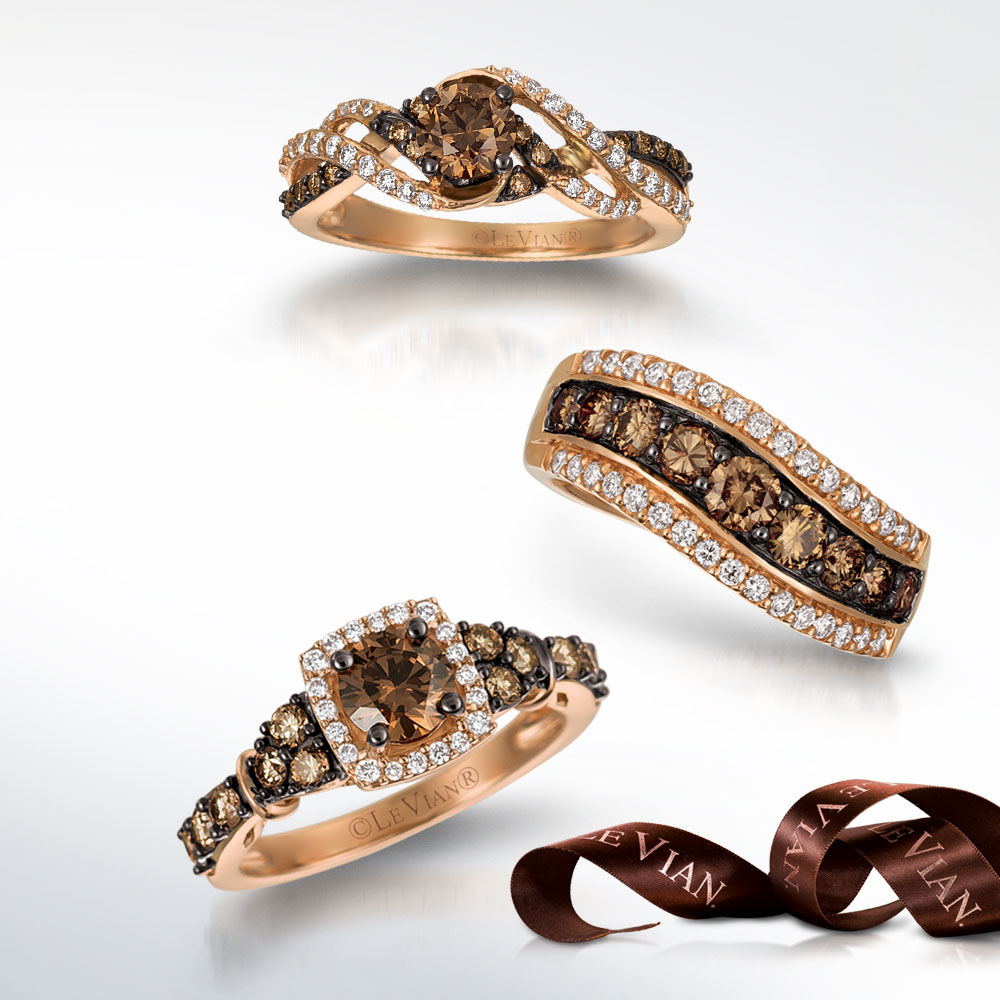 Rare Yet Affordable
Until about the turn of the millennium, the world of natural fancy-colored diamonds was mainly limited to the rich, who could afford to pay extraordinary prices for yellows, pinks and reds. But all that has changed. When Le Vian® started popularizing Chocolate Diamonds® — and taking advantage of their affordability due to being under-appreciated — millions of collectors could become owners of jewelry with fancy color diamonds. Meanwhile, the Chocolate Diamonds® that Le Vian® sold 15 years ago have more than tripled in price, though they're still a fraction of the cost of the standard white diamond. And through Le Vian's trade-up policy, buyers are able to upgrade from Chocolate Diamonds® to the more expensive and rarer varieties of natural-color diamonds such as yellows, greens, blues and pinks.


Strength Of Color - What It Takes To Be A Chocolate Diamond®
Not every brown diamond qualifies for the stringent standards that Le Vian sets for Chocolate Diamonds. So what sets Chocolate Diamonds apart? Le Vian arms its trained diamond buyers with a list of criteria used to source only the best brown diamonds, including considerations such as color, clarity, size, and cut. The strength of color is one of the most important factors in determining the value of a natural color diamond. Chocolate Diamonds must have a certain hue, tone and saturation, rating between C4 and C7 on Argyle's color scale. Brown diamonds within that range are the richer, deeper champagne colors, and correspond to the fancy dark browns on the Gemological Institute of America's color chart.
The richer the color saturation and the darker the tone of color of the natural brown diamond, the more rare that diamond is considered. Chocolate Diamonds must have a clarity of SI or higher — Slightly Included means it's "eye clean," so that inclusions aren't visible to the naked eye. Note that fewer than 5% of the diamonds from the Argyle mine meet these standards. Stones larger than 20 points (1/5 carat) are the top 5% of those, and Chocolate Diamonds of one carat or larger are 1 in 10,000 — almost impossible to find. Of course, once the Chocolate Diamonds® are sourced from the mine, they are then cut to Le Vian's exacting standards.

Le Vian® Is The Only Company On Earth To Make Jewelry With Chocolate Diamonds®
Chocolate Diamonds® are Le Vian's unique brand of natural fancy color brown diamonds, introduced in the year 2000. Le Vian® was one of the first to appreciate the limited quantity of rare, natural fancy-color brown diamonds that were mostly being produced by the Argyle Mine in Australia. Among the production of brown diamonds, a tiny selection — less than 5% — were more beautiful and rare than the colorless white diamonds. These rare brown diamonds, with deeper color and higher clarity, were unfairly grouped with the lower quality stones. Because they were under-appreciated, they were underpriced, and Le Vian® seized this opportunity to introduce these beautiful natural diamonds to the world. The company then coined the term Chocolate Diamonds® to indicate a select and exacting standard for natural fancy-color brown diamonds, gaining worldwide recognition for its Chocolate Diamonds® brand jewelry.
The Chocolate Diamonds® Trademark
We branded our brown diamonds because Le Vian believes in its standards for finding and selecting rare, high quality natural brown diamonds sets it apart from other sources for brown diamond jewelry. In order to distinguish itself, Le Vian has coined the term Chocolate Diamonds® to indicate a select and exacting standard for natural fancy color brown diamonds that it uses in its innovative and unique jewelry. Le Vian® obtained a registered trademark of Chocolate Diamonds®, so consumers would be assured that these branded diamonds are of the highest quality, meeting specific standards of what it takes to be a Chocolate Diamond®. Currently, Le Vian holds the registered trademark for Chocolate Diamonds in countries around the world, spanning the Americas, the European Union, China, and the Middle East.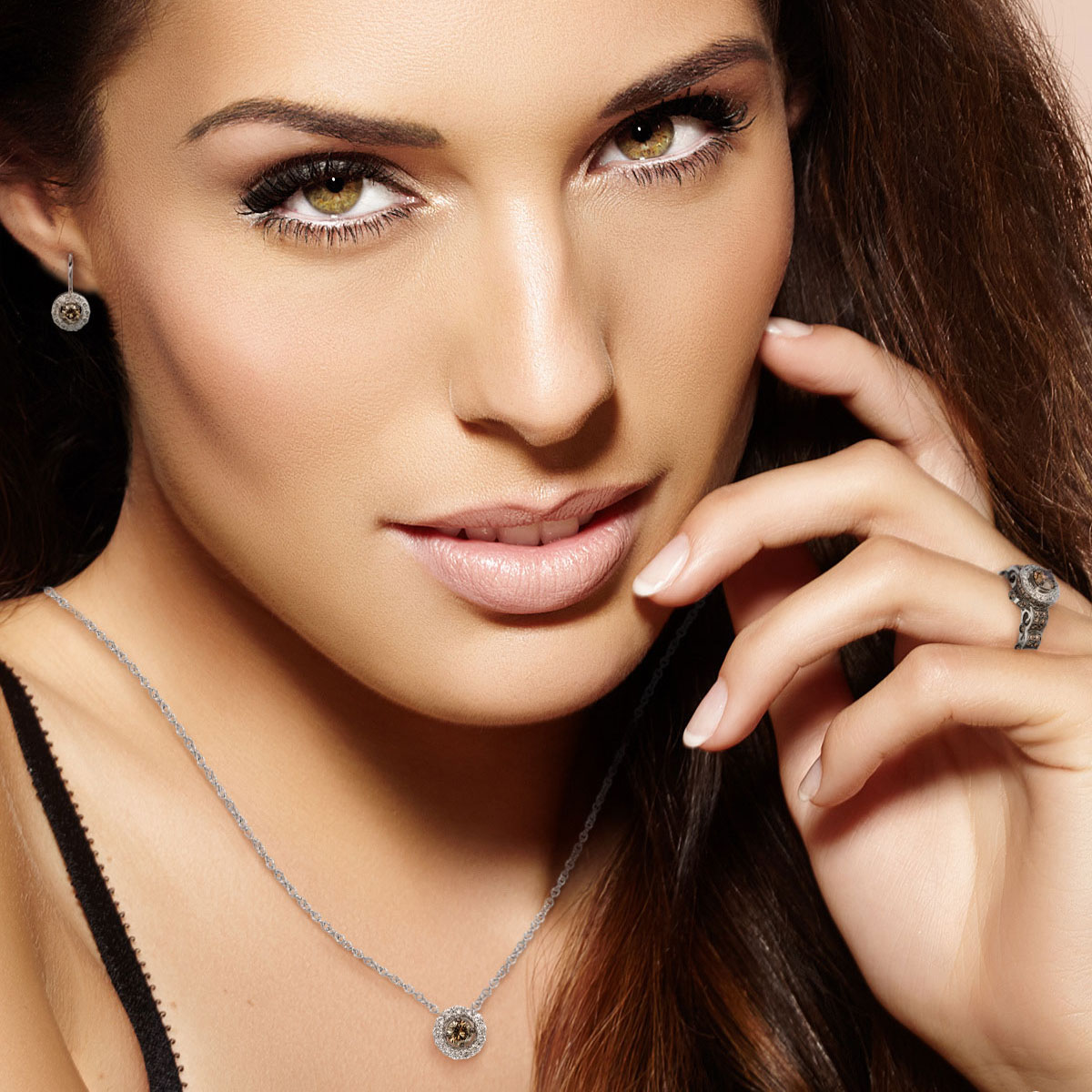 The Fashion Of Chocolate Diamonds®
If there's one thing that Le Vian is known for, it's creating beautiful, original, innovative designs in jewelry. And since the introduction of Chocolate Diamonds® in 2000, the company has created thousands of new styles every year featuring these natural-color stones. Chocolate Diamonds® have a unique appeal, because they can be worn for so many different occasions, or for no occasion at all. The earthy quality of these diamonds gives them a versatility that lets you wear them nearly any outfit — dressed up in a fancy, one-of- a-kind gown for the Red Carpet, or dressed down in jeans and a sweatshirt for a trip to the store. And with the trend in fashion moving away from flashy bling that screams wealth, towards less pretentious styles of restrained elegance, Chocolate Diamonds® achieve that perfect balance of luxury and tastefulness.
Many of Hollywood's most fashion-conscious celebrities agree. While these famous actresses and musicians can afford the biggest, brightest and flashiest diamonds, they often choose to wear Le Vian's Chocolate Diamonds® jewelry, valuing originality over everything else. You'll see them again and again — on the Red Carpet, on talk shows, at movie premieres, at awards ceremonies — wearing Chocolate Diamonds®, because they love the unique styles of Le Vian® jewelry, and because they love the look and appeal of Chocolate Diamonds®.
The Uniqueness of Chocolate Diamonds®
All of Le Vian's Chocolate Diamonds are Unique, Affordable, and Fashionable. Here's why. The color results from a combination of three different elements — hue, tone, and saturation — and there are millions of combinations of these elements that create each diamond's look. So, when you get a one-carat Chocolate Diamond®, all the many possible variations make each diamond unique. This is of course true of all natural-color diamonds, and it's the reason they are so valued. People are looking for something different, something no other collector can get no matter how much they're willing to pay.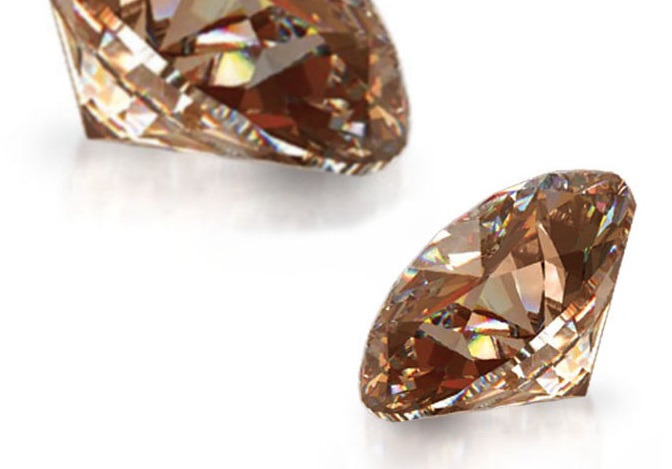 The Limited Supply
Chocolate Diamonds® are some of the rarest natural color diamonds in the world. Here is the inside story on this fascinating and beautiful diamond. Diamond mines have life cycles. At their peak, they produce a steady supply of good quality stones, which can be affordably made into fine jewelry. But over time those higher quality diamonds become harder and harder to find. Eventually, it becomes too expensive to keep digging and the mine is closed down. If that was the only source of a particular type of diamond, the price can rise dramatically. The Argyle Mine in Australia, which produces most of the world's Chocolate Diamonds, is a case in point. The Argyle Mine is set to close in the near future.
Our Mission
Become the company that compels every household in America to own a Le Vian® piece, the world's most beautiful and desirable jewelry.